SCREENINGS OF ECOLOGICAL FILMS 2nd DAY IN THE PROGRAM OF THE 6TH VIVA FILM FESTIVAL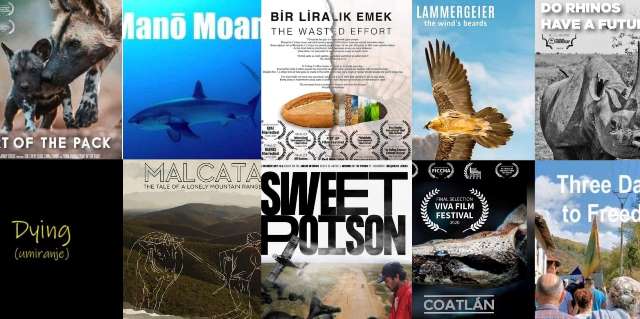 With screenings of selected environmental films, in three terms from 12.00, 20.00 and 01.00 after midnight on the website www.vivaba.com, we continue the online edition of the 6th VIVA Film Festival.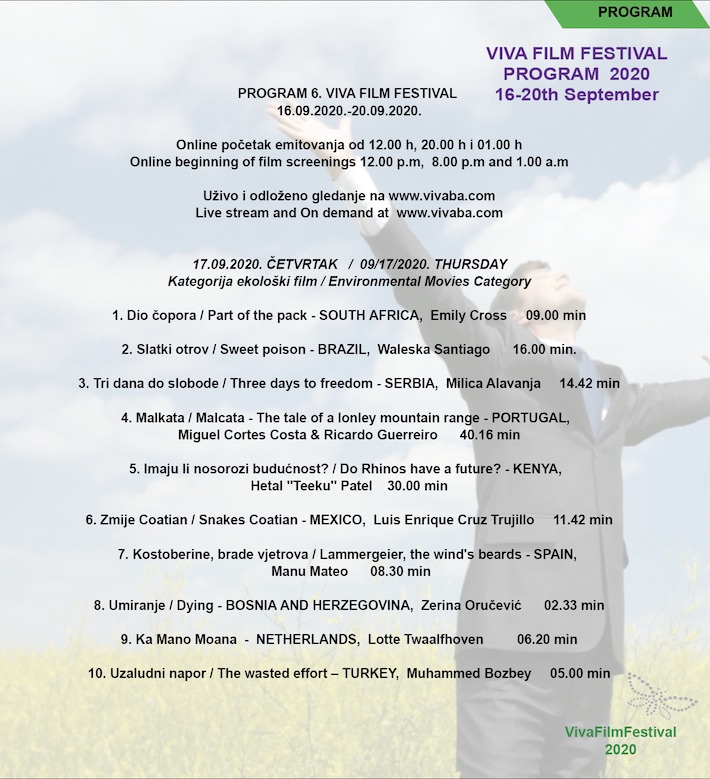 On the second day of the Festival, we dive beneath the surface of the ocean in the film "Ka Manō Moana" (Lotte Twaalfhoven), a documentary about the importance of sharks for our ecosystem.  (Miguel Cortes Costa & Ricardo Guerreiro), and getting to know the Pyrenees from a different perspective brings us Manuu Mataeo and the film "Costaberine, the Beard of the Winds".
In the film "Wasted Effort" (Muhammed Bozbey), we will follow the path of a loaf of bread and ask ourselves what is our attitude towards the valuable resources we have.
"Dying" (Zerina Oručević) is a story about the ecological problems of the City of Mostar, and in the film "Three Days to Freedom" Milica Alavanja presents the villagers who are trying to prevent an ecological catastrophe due to the announcement of building a small hydroelectric power plant in the village of Topli Do in southern Serbia. . A similar struggle is being waged by the local population of a city in northeastern Brazil, "Sweet Poison" (Waleska Santiago), a film about the incredibly dark side of pesticide use.
In a different way, Luis Enrique Cruz Trujillo presents us with "Coatlán" (Snakes), which are indiscriminately killed in Mexico due to repulsion, myths and legends. The film "Part of the Pack" (Emily Cross) is a story about the endangerment of the African wild dog, and Teeku Patel from Kenya through the film "Do rhinos have a future?" Indicates that this species is threatened with extinction, they are killed because of the horns that are highly esteemed in Asian folk medicine. Is it possible to preserve these animals?

The variety of themes of this year's films selected in the category of ecology will surely attract the attention of a larger number of viewers.
We remind you that online film screenings are held daily in three terms, in order to be available to authors from different time zones, starting at 12.00, 20.00 and 01.00 after midnight, and it is possible to watch movies on www.vivaba.com.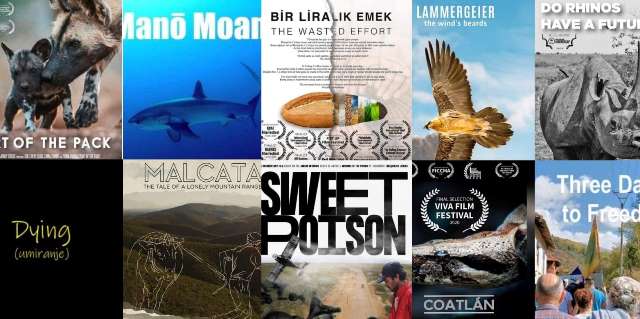 All additional information can be obtained on the Festival website www.vivaba.com and at https://www.facebook.com/vivafilmfest